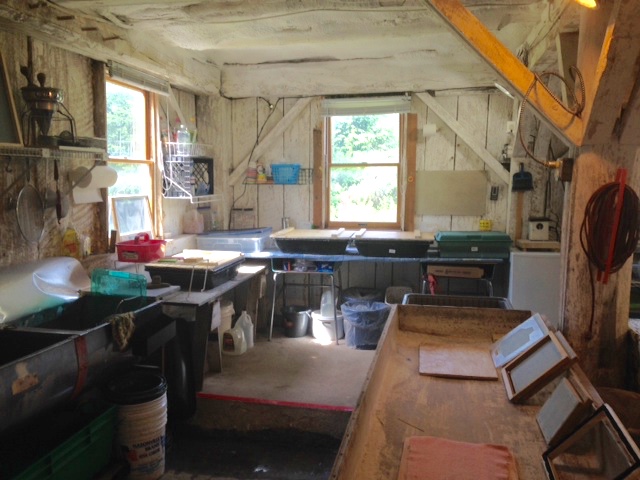 Still reeling from 4 days in the paper studio with Kirah Haubrich! Visiting from the great city of New Orleans, she assisted with last weekend's one day workshop. Then near the end of her very first day of making paper here at East Brook Studios, she suggested a tiny improvement in the space, to which I added my own wish list of improvements. A bit more talk, a couple of sketches, a tour of the available items lying around the barn... and we stepped into 3 day studio upgrade whirlwind!
The studio is now 630 square feet (an expansion of 155 sq ft) and is all organized, cleaned and cleared. We added a desk, more fiber storage, another couching area, and organized everything into a counter clockwise step by step from idea to pulp to finished paper pattern.
Best part? The only expense was a can of spray paint! All materials were repurposed from other parts of the barn, especially from Ted's workshop. Ted caught the reno-fever, too, and supplied two more lights, two metal cabinets, multiple tools, and muscle power to help us finish the job.
Thank you, Ted and Kirah!!!!!! xoxo!